Bernina 330 Sewing Machine
Global Shipping!!




Free Delivery in Singapore on S$250
Machine Expert




Consult Us
FREE 365 Days




Machine Operation Training
Flexible Payment




Installment Plan
Only The Best




Service & Warranty
BERNINA 330 Premium Sewing Machine
Provides you with simple handling but high quality results from BERNINA B330 machine.
Warranty :2 years electric and 5 years on parts and accessories
Training : FREE 365 Days Walk-in Machine Operating Training
30 Memory Locations for Your own Stitch Combinations
The BERNINA B330 : Broad variety of stitches are an invitation to try out and experiment, letting you create attractive stitch combinations that you want to use again the next time you turn on your machine. Where as in the past you need a notebook to jot down your stitch combinations, the  BERNINA B330 offers a generous long-term memory with 30 free locations for your own stitch creations. This ensures that your favourite or most frequently used stitch combinations are immediately available again at the press of a button. The BERNINA B330 offers an extra touch of luxury missing from many entry-level machines  room for your own creativity. The memory function is also a useful aid when the BERNINA B330 is being used as a sewing machine for sewing classes, since it ensures that required stitch combinations are also available again in the next class, exactly as they were saved. This saves time and guarantees identical results. 
| | |
| --- | --- |
| | Free Sewing Machine Training and Join Our Sewing Lessons and Sewing Classes to learn about the machines and project. |
| | 365-day free consulting, in-house training and online support at SewingGuru.com. |
| | Trade-in options available and replace your old machines with upgrade program. |
| | Experience all the demo & display machine at our store - Bring your materials and test drive it. |
| | Wide range of payment method supported - Cash, NETS, Cheque Credit/Debit Cards, Installment, Paypal and etc. |
| | Free In-house Training session for each of the products. |
| | Warranty and Servicing from Experience in-house Technicians. |
Contents
Bernina 330 Feature
KEY FEATURES FOR BERNINA B330
Bernina 330 Highlights
Threading Made Easy for Bernina B330
Inexperienced sewers in particular often find it difficult to rethread the machine correctly when changing thread. The BERNINA 330 built-in needle threader saves you time and effort, making thread changes easy and hassle-free and minimizing the risk of error. No complicated thread guiding, no looking-up in the user manual the BERNINA 330 pares down the threading process to the bare essentials and prevents problems before they occur, letting you get back to your sewing project faster and leaving you free to focus entirely on the creative side of things.
Bright LED Sewing Light for Greater Sewing Comfort for Bernina B330
The BERNINA B330 : Bright LED sewing light let you achieve precise results and affords you a clear view of your project at all times, even with poor ambient lighting. Particularly during longer sewing sessions, an LED sewing light represents an essential feature, enabling you to sew for long periods without eye fatigue. The BERNINA B330 therefore also scores with an ergonomic advantage: intricate sewing projects can be optimally controlled and the user  eyes are spared thanks to the even, glare-free illumination of the work area. Here, the neutral light characteristic of the LED sewing light guarantees your ability to judge the colour effect of the thread used even while you are sewing, entirely without distortions from external light sources with a colour cast, such as neon tubes or lightbulbs. A small detail with a big impact.
Bernina 330 Accessories and Parts
Automatic buttonhole function for Bernina B330
Buttonholes can be a challenge even for experienced sewers and quilters. With the BERNINA B330, you sew perfect buttonholes of the exact same length right from the start thanks to the automatic buttonhole function. Simply set the desired length and sew; the settings are automatically saved in the BERNINA B330 memory and are immediately available again for the next buttonhole, however many you sew in a row. The automatic buttonhole function guarantees completely identical buttonholes for instant sewing success. The BERNINA B330 provides even novices with an easy introduction to an advanced technique.
Standard Accessories for BERNINA B330
Reverse pattern foot # 1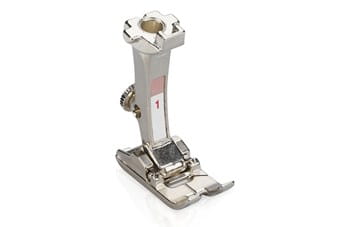 Reverse pattern foot # 1 is the ideal presser foot for sewing forward and reverse-feed utility and decorative stitches.
Overlock foot # 2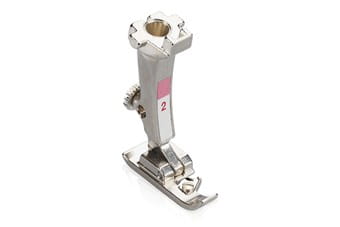 Overlock foot # 2 lets you neaten seams easily and sew high-quality hems, waistbands and overlock seams on knit fabrics.
Buttonhole foot with slide # 3A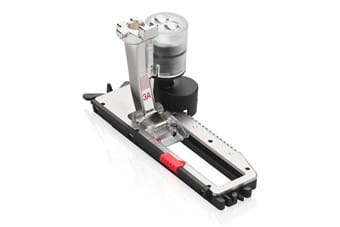 Depending on the model, Buttonhole foot with slide # 3A determines the desired buttonhole length for identical buttonholes either via a sensor or manually.
Zipper foot # 4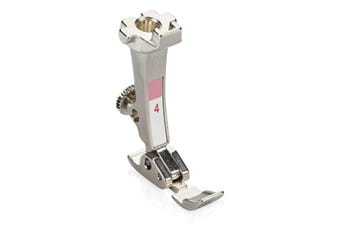 Thanks to its narrow, centrally positioned toe, Zipper foot # 4 can stitch very close to the zipper coils, allowing it to sew the zipper on neatly.
Blindstitch foot # 5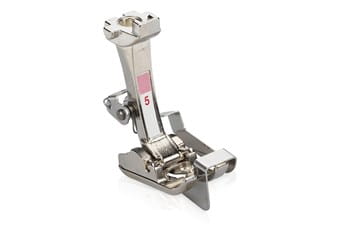 Blindstitch foot #5 is designed for sewing blind hems on all fabric thicknesses for a barely-visible finish.
Foot control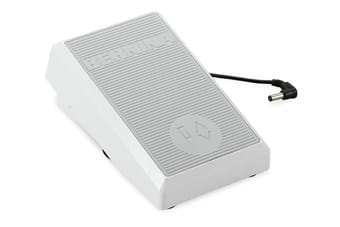 Control the sewing speed easily by pressing the foot control.
Metal bobbins for Bernina B330
Four different versions of the BERNINA bobbin are available. The metal bobbins can be used on all BERNINA sewing machines apart from the 7 Series and 8 Series.
Cordonnet bobbin case for CB hook machines for Bernina B330
The special BERNINA cordinnet bobbin case for CB hook machines is ideally suited for sewing with thicker threads, such as cordinnet threads, that cannot fit through the eye of a needle.
Bernina Home Machine Accessories & Parts
Dimensions (length, depth, height):
37cm x 17cm x 30cm 
Download Files:
Accessories content might vary and manufacturers reserve the right to change the content and/or accessories with similar value without prior notice.
Please check the product manual for the detailed list of included accessories.
Bernina 330 Review
Like most BERNINAs, there are three machines in the series… the 330, the 350 and the 380. The 330 is the basic computerized sewing machine in the BERNINA 3 series. It comes with 97 decorative and utility stitch options, including a one step buttonhole, LED lighting and a full color LCD touch screen. The BERNINA 330 is a great user-friendly sewing machine for beginners. Because of the rather complicated stitch selection process, however, I do not recommend it for use by children younger than high school age or by people who are challenged by technology. Anyone with prior sewing experience will be pleased with the way this machine operates and the stitch quality.
Bernina 330 Price and Where to find us
Bernina 330 Service and Repair
Bernina 330 Sewing Lesson and Classes
Bernina 330 Manufaturers, Suppliers, Vendors and Wholesale
Accessories
| | |
| --- | --- |
|  Wide Table | Unavailable |
| Threads | Available |
| Bobbins | Available |
| Footers | Available |
---
Frequently Asked Questions (FAQs)